Wenzhou-Kean University Celebrates Class of 2020 Commencement

Wenzhou-Kean University celebrated its Class of 2020 Commencement on June 6th, marking a milestone of over 440 graduates, who officially completed their bachelor's degree studies today.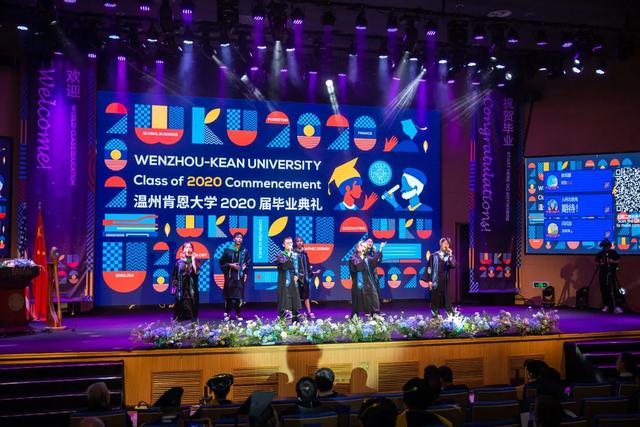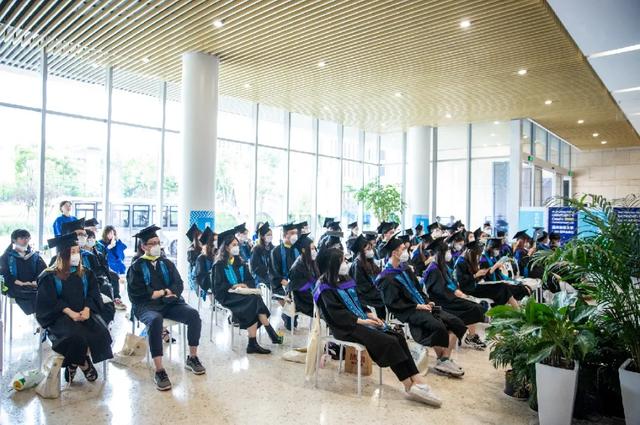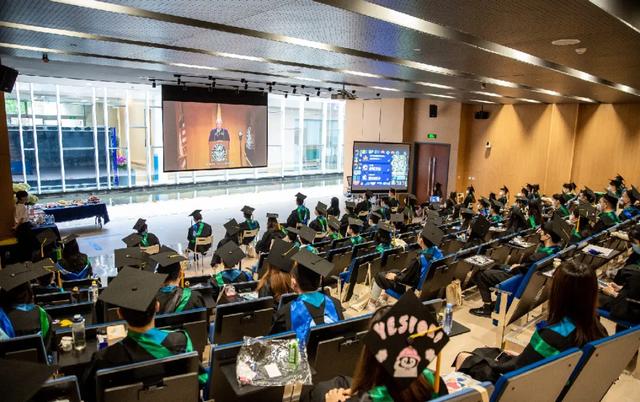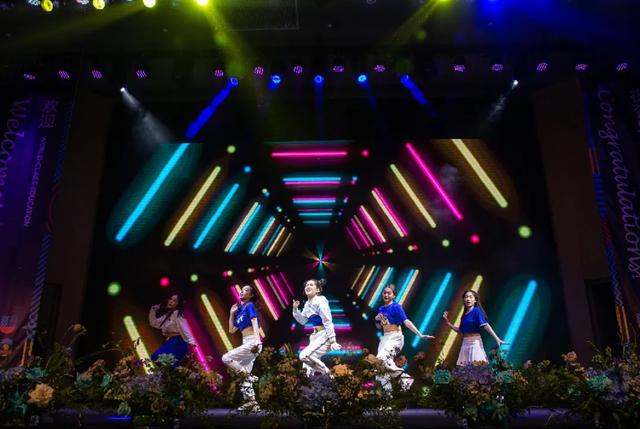 The event, coming at a time of global pandemic that requires social distancing, was held in a combined on-site and virtual manner, leveraging digital prowess for a reunion of Wenzhou-Kean community.
Despite long distance caused by the COVID-19 pandemic, nothing could block the enthusiasm and solidarity of the University. No matter where you are, at home or abroad, faculty, staff, students and alumni have united as one and sent their blessings to graduates.
Ms. HU Jianjin, Member of the Standing Committee of Wenzhou Municipal Committee and Director-General of Publicity Department; Member of the Chinese Academy of Engineering and President of Wenzhou Medical University, Commencement Speaker, Dr. LI Xiaokun; Chairman of the Board of Directors of WKU,Mr. WANG Beijiao, Chancellor Dr. WANG Li,Vice Chancellor Dr. ZHENG Xiaodong along with other University leaders, faculty and staff attended 2020 Commencement on campus; while Kean President Dr. Dawood Farahi, the New Jersey Commissioner of Education and Named President of Kean Lamont Repollet, Ed.D. and Member of Board of Trustees John Kean Jr. together with WKU Acting Vice Chancellor for Academic Affairs, Dr. Eric YANG and Vice Chancellor Dr. XU Shuli in America joined by live stream. They all extended their warm greetings and best wishes to graduates.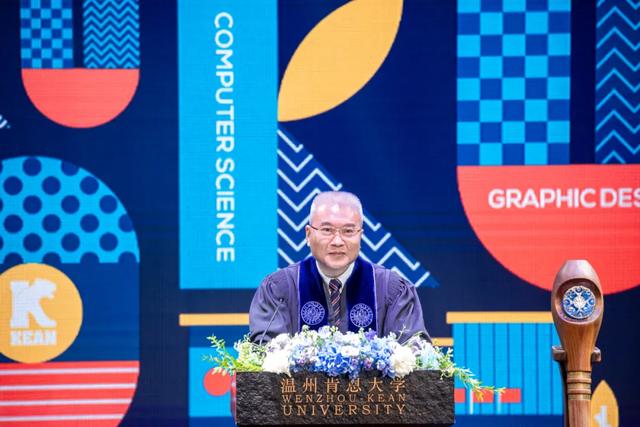 Mr. WANG Beijiao
Chair of Wenzhou-Kean University Board of Directors
Chairman of Board of Directors of WKU, Mr. WANG Beijiao presided over the event.
At the beginning of the ceremony, Mr. WANG Beijiao delivered the opening address. In his speech, he highly praised students'achievements. During the past four years, they have well adapted themselves to the all-English teaching environment, embraced the culture differences between China and the U.S. and found themselves the proper directions for future pursuit. Most of students will further their studies in the most prestigious universities around the world. The confidence, courage, intelligence of graduates are good demonstration of WKU's ethos.
He thanked governments at all levels, Wenzhou government in particular, faculty, staff, students and their parents for having done tremendous work contributing to the rapid development of the Wenzhou-Kean University.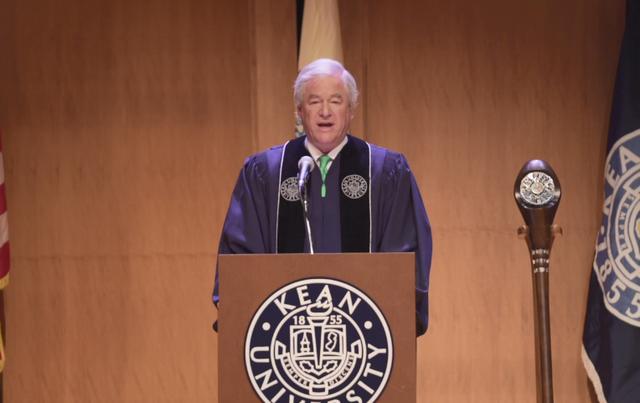 Mr. John Kean Jr
Member, Kean Uiversity Board of Trustees
Member, Wenzhou-Kean Board of Directors
Member of Board of Trustees John Kean Jr. congratulated graduates via video. He praised graduates as good examples of the best, the brightest, and the most resilient students anywhere in the world. He was convinced that Wenzhou-Kean University has set a solid foundation for graduates to practice their beliefs and dreams. He encouraged graduates to be creative and think out of box to make the world a better place.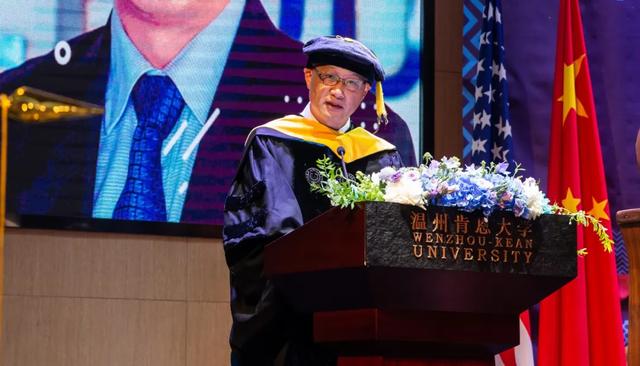 Dr. WANG Li
Chancellor, Wenzhou-Kean University
Chancellor Dr. WANG Li told graduates that "although this extraordinary moment present in a unique way, however, all your families, professors and friends will join you in virtual commencement to celebrate the significant moment of your life."
He appreciated students' endeavors amid the pandemic. Started here, they will embrace the future, and he wished that all students could contribute to the common progress of human community.
Standing at the last stop of WKU, Dr. WANG also came forth with 3 wishes for graduates. Firstly, be well prepared for any possible crises. Exercise the capacity of tackling difficulties. The pandemic threw us in unprecedented challenges, how to adapt yourself to the new normality, this is a profound lesson that we need to learn; Secondly, he emphasized the importance of dedication, to learn from those who made tributes during the pandemic, to serve the role in the overall mission of the national rejuvenation; Thirdly, based on what they have learnt, he encouraged graduates to shoulder the great responsibility of building a community with a shared future of human kind.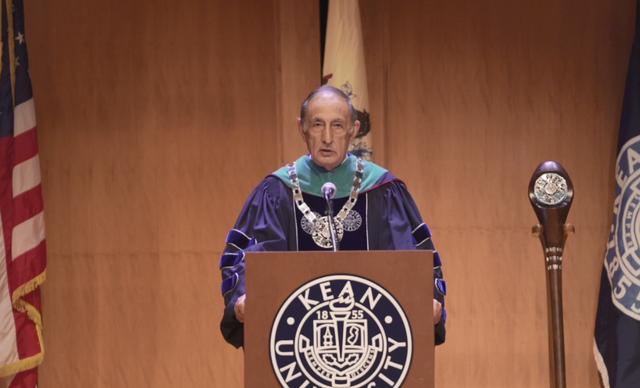 Dr. Dawood Farahi
President, Kean University
President of Kean University Dr. Dawood Farahi leading his last presidency, after 17 years contribution to the excellence of the university extended his sincere congratulations to all graduates and announced this 2020 Commencement would be his last one before leaving the position as the president, so class 2020 would hold a special place for him.
He remarked that although the pandemic blocked his way to reunite with class 2020, however, nothing could diminish the achievements of graduates. Regardless of the unexpected crisis, graduates overcame insurmountable challenges and completed remote education according to University schedule. He was surprised by the extraordinary works done by graduates, and he believed the experience from the crisis favored their U.S. counterparts and would continue to serve themselves throughout their lives.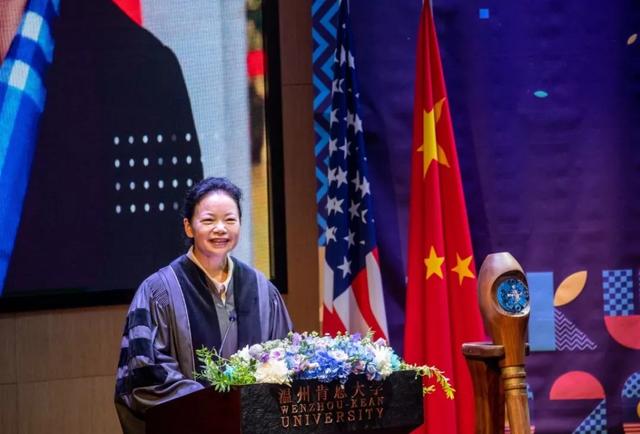 Ms. HU Jianjin
Member of CPC Wenzhou Standing Committee and Director of Publicity Department
On behalf of Wenzhou Municipal government, Ms. HU Jianjin congratulated graduates. She stated, Wenzhou is a city with the spirit of innovation and reform, where achieved fruitful outcomes over the past years. She wished all WKU talents could devote to the development of the Wenzhou city. Besides, she encouraged students with language advantages to be the culture ambassadors, communicators of Wenzhou, to promote the exchange and mutual understanding between China and the western countries, to present a true China with their expertise.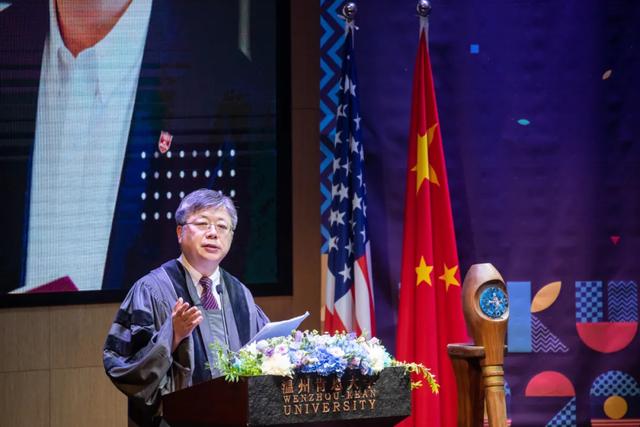 Dr. LI Xiaokun
President, Wenzhou Medical University
Commencement Speaker Dr. LI Xiaokun, Member of the Chinese Academy of Engineering and the President of Wenzhou Medical University applauded the WKU's achievements over the past years.
He noted that aspirant young men should be led by strong motivation, tenacious spirit and in a right direction. He further stressed as a youngster, it is essential to feed back to the society, to be tenacious and persistent in difficulties and to pass on positive energy.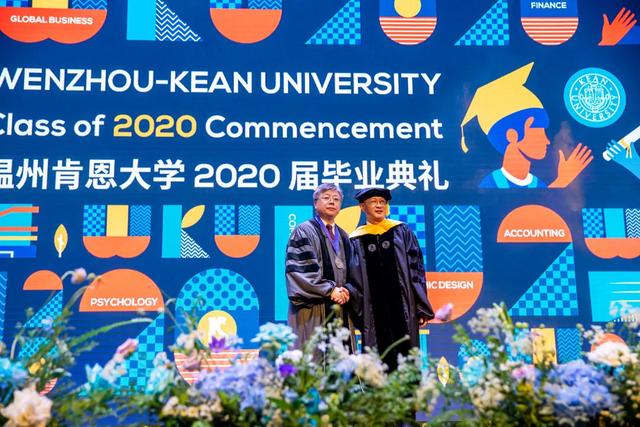 Award WKU medals to Guests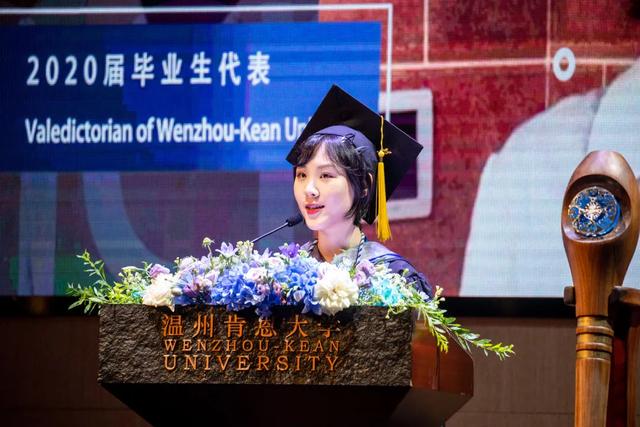 Ms. WANG Yangcan
Class Valedictorian
Valedictorian Ms. WANG Yancan delivered a speech, in which, she reminisced about her life on campus and shared her personal experience as well as extended heartfelt gratitude to WKU. From here, she stressed, she gained three "Cs" which would benefit her: Curiosity, Courage and Collegiality. WKU's spirit will accompany her head forward.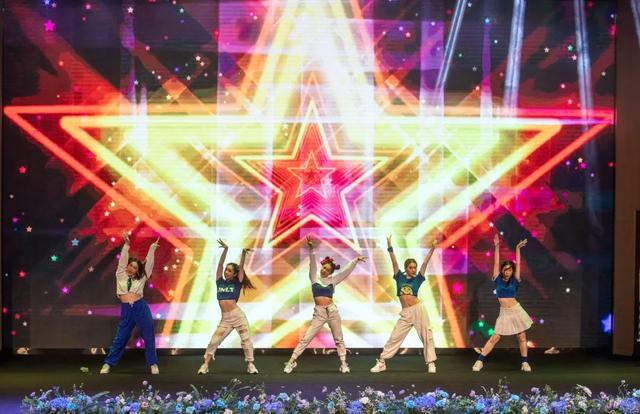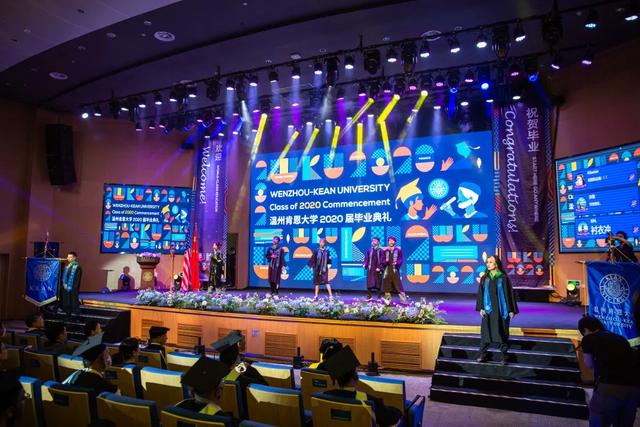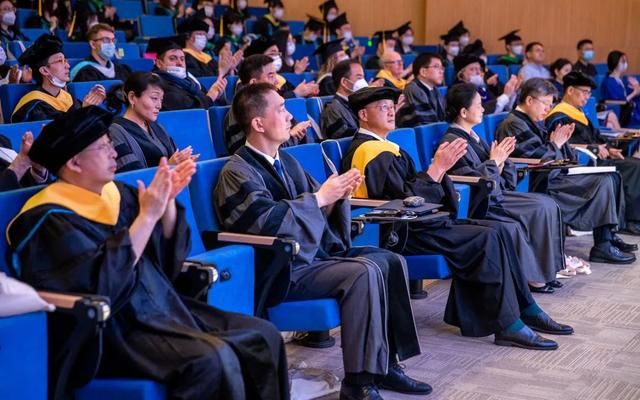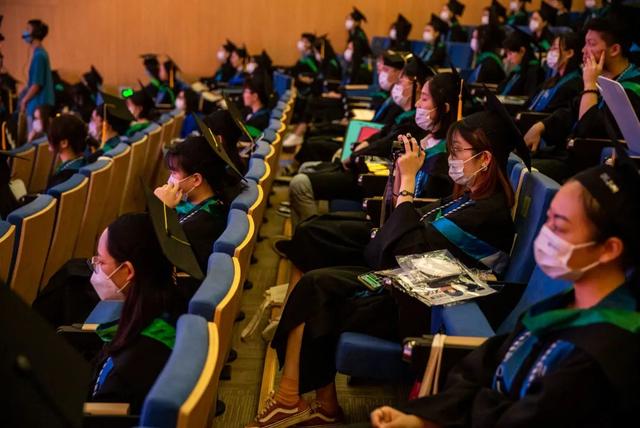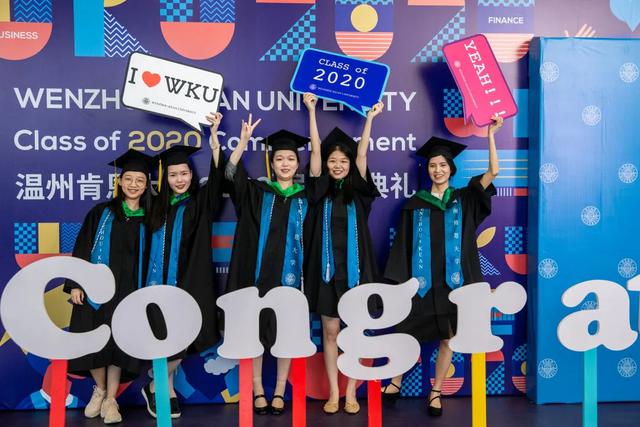 2020 Graduates
Besides, acting Vice Chancellor Dr. Eric YANG and Vice Chancellor Dr. XU Shuli in America as well as faculty of several colleges of the University and alumni sent their blessings via video.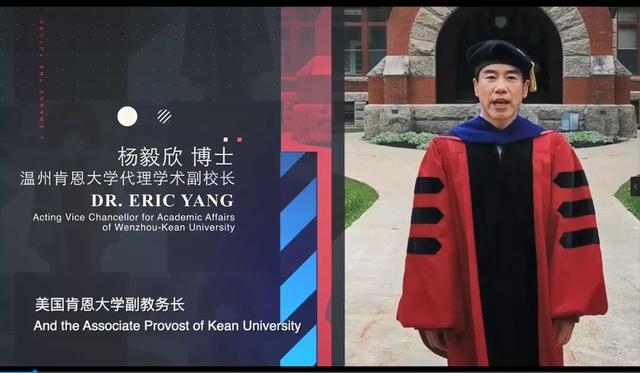 Dr. Eric YANG
Acting Vice Chancellor for Academic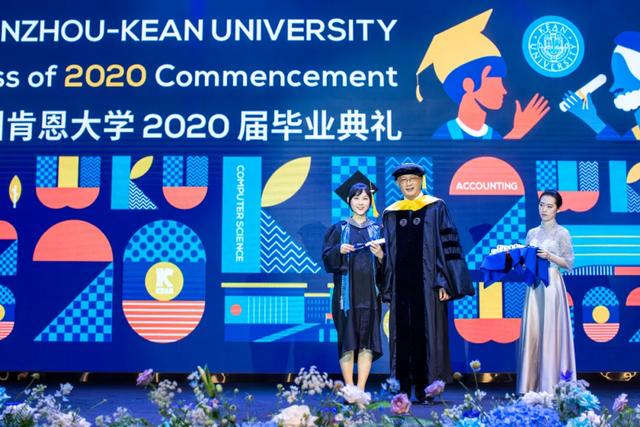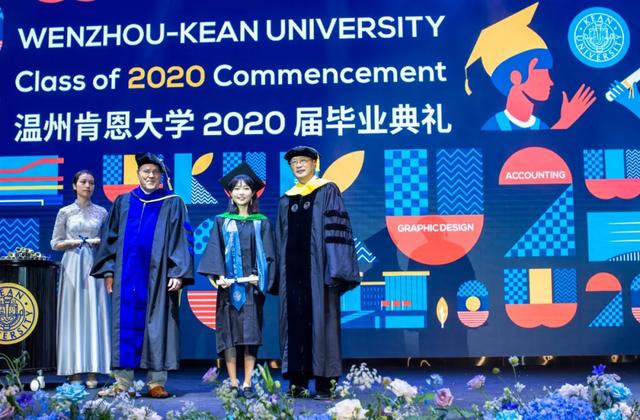 Conferral of Degree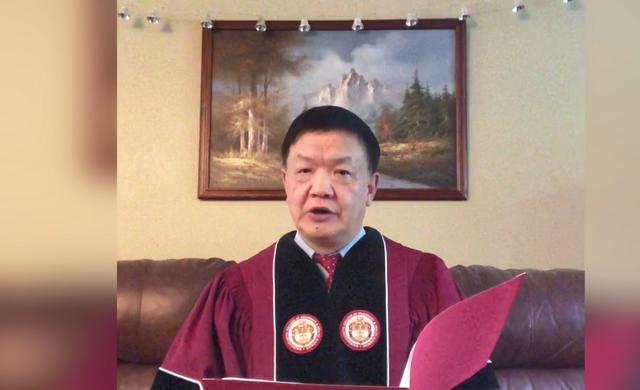 Dr. XU Shuli
Vice Chancellor, Wenzhou-Kean University
Executive Vice President, Alumni Association, Wenzhou-Kean University
The event completed with the traditional procedures such as turn the tassel ceremony and confer of degrees and photograph with faculty.
Throughout the Commencement, families, friends and peers sent emoji-filled congratulations to cheer for the Class of 2020.
The Commencement wrapped up in a joyful atmosphere, drawing a satisfactory conclusion of the event.
Writer: Alisa LAI